A tried and proven approach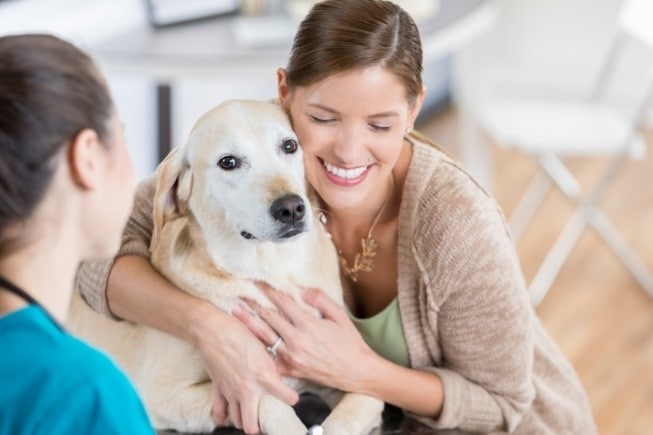 Over the last 12 months Hill's has been running weight management workshops, designed to educate veterinary nurses on how to run their own weight management consultations. These events have not only educated nurses about diets and calculating individual feeding plans for weight loss, but also how to run consultations with their clients. This enables nurses to get the complete picture of what is happening in the client's home and have the full weight loss conversation with the pet parent at a level of detail the veterinarian often just doesn't have enough time for.
Many nurses are keen to take on this role, but just need some guidance on how to get started, and a structure to follow.
So, here are our 6 Steps on how to run a nurse nutritional consultation, a process that has been tried and tested successfully by nurses involved in the Hill's Nutritional Nurse Consultation Course.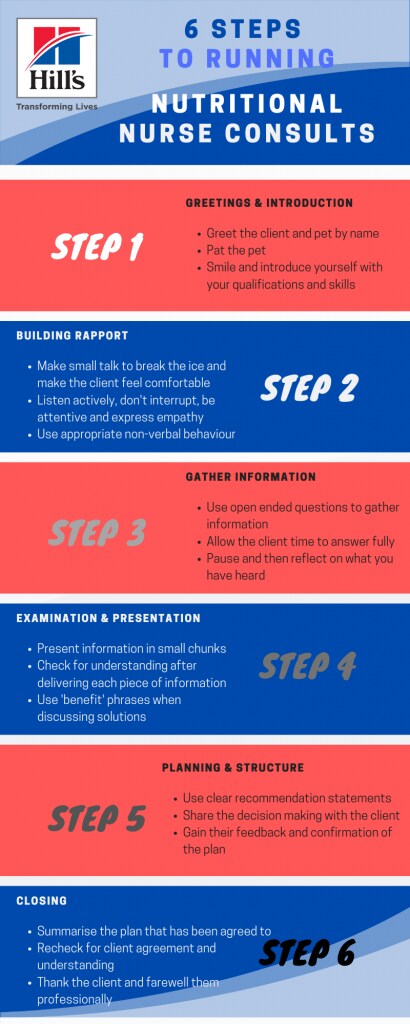 1. Greetings and introductions
Greet the client and pet by name– first impressions are lasting!
Ensure you touch the pet (go on, give them a hug)
Smile and introduce yourself with your qualifications and skills – this lets the client know how you can add value
2. Building rapport
Make small talk with the client and break the ice a little – they are more likely to be honest if you create a connection
Listen actively, don't interrupt, be attentive and express empathy – they will really appreciate your understanding
Use appropriate non-verbal behaviour – let your body language show you are interested and listening
3. Gather information
Use open, probing questions to gather information – you know, those questions that require more than a yes/ no answer i.e. Tell me about…..How does…..Explain to me……
Allow the client time to answer fully – don't jump to a solution as you may not have all the information yet
Pause and then reflect on what you have heard – this gives you solid confirmation and/or can often lead to further queries and insights
TIMEOUT!!
So, you've greeted the client, you've asked all the right questions, you've made small talk; you've built rapport and confirmed information.
Before you go on to the 4th step of presenting your recommendations and plan for the pet, take a moment, step back and STOP AND PAUSE.
Don't move forward until you really believe you have the whole story. If you feel something may have been left unsaid, or the client looks a bit confused, go back and ask another open ended question. You don't want to come up with a whole plan that is not going to work because you didn't get all the information.
OK, you can move on now.
4. Examination and presentation
Present information in small chunks – they don't have your knowledge, so take it slowly, with just one piece of information at a time (great idea to use visuals or brochures here)
Check for understanding – after delivering each piece of information ask the client "Does that makes sense" or "Would you like me to explain further or again?"
Use 'benefit' phrases when discussing solutions – link the benefits of the solutions/ products back to the problem that the client identified at the beginning of the consultation
5. Planning and structure
Use clear recommendation statements – be specific and leave no doubt which product/s you are recommending
Share the decision-making with the client – ask them " How do you feel about this plan" or "Can you see how this will work" and/ or ask if they have any concerns
Gain their feedback and confirmation of the plan – ensure they are able to implement the plan at home
OBJECTION TIPS
If you get some objections from the client to your recommendations:
Try not to shy away from handling objections as usually they are a great opportunity to continue the conversation. This is when we tend to say "Oh ok thanks very much, maybe next time" and we rush them out the door when what we really need to do is spend a little more time understanding their concerns.
Objections can often be due to a simple lack of understanding, not having enough information, or the client can't see the value for money. So go back to asking if they have any concerns or how you can help them with further information.
If re-presenting recommendations for products, try mixing it up a little and maybe don't be as technical or use an example or story.
Don't introduce price too early – if you haven't built up the value they will just hear the cost
Make it an investment not an expense – use the word investment in your language
Break the price down to cost per day – this does work! (you can utilise the Hill's cost per day calculator)
Compare results not the price – what the problem is now and what it might look like in 6 months' time if we go with this plan, or what it might mean if we continue on the same way.
Ensure you understand why Hill's diets are worth the cost and have confidence in your knowledge – it's difficult to sell something you don't really understand.
6. Closing
Summarise the plan that has been agreed to – ask "Are you happy with our plan?"
Recheck for client agreement and understanding – this is important if you are sending the client away with some jobs, like a food or treat diary, so check they understand their responsibilities
Thank the client and farewell them professionally – thank them for coming in and allowing you to be a part of their pet's health care plan
Last impressions are just as important as mastering those first impressions!
Which veterinary practices are suitable to run Nutritional Nurse Consultations?
Most practices can facilitate a nurse nutritional consultation model of some sort.
Supportive practice owners and managers of qualified nurses with nutrition knowledge just need to allow these keen nurses to develop a nurse consultation model. Usually the nurse is able to set up a model that fits in with their individual practice. Don't be frightened of being creative!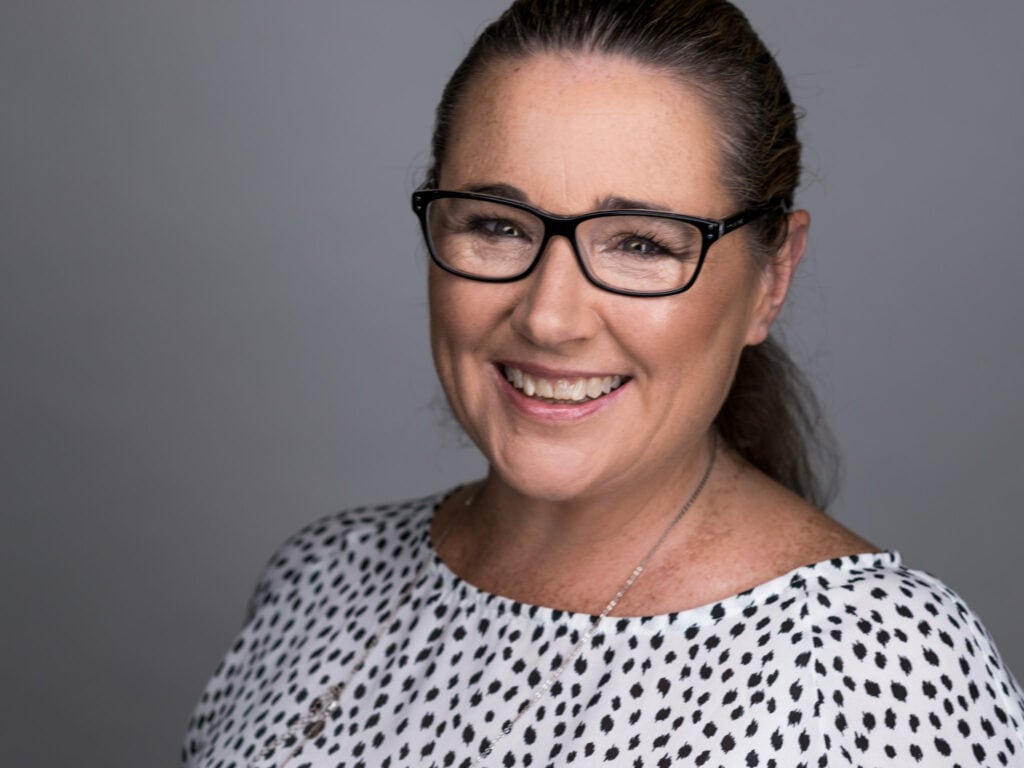 Rae Schafer-Evans, Cert VN, Acc Delta Trainer, Cert IV Business, Professional Engagement Executive, Hill's Pet Nutrition Australia.
Rae started her working life as a Veterinary Nurse and worked in Small Animal practice. She has had various roles whilst employed with Hill's Pet Nutrition and is currently Hill's Professional Engagement Executive. Rae's passion is not only pets but veterinary nurses, she has developed the Hill's National Veterinary Nurse Programme and coordinates Hill's Australia vet nurse CE programmes both online and offline with many being replicated throughout Hill's globally.
She is currently working with industry partners to encourage more nurses into the consult room to enhance client and patient care, vet nurse job satisfaction and to free up the veterinarian's time.