What can you do to help patients with brain ageing?
In our first blog on this topic, "Doggy Dementia" – It's more common than you might think", we learnt about the pathophysiology and clinical signs experienced by dogs affected by brain ageing or canine alzheimer's (or CDS). We also learnt that whilst many owners can recognise the signs of CDS easily, few do anything about it, believing that they are an inevitable part of normal ageing. However, this is not the case and this blog will discuss how we can actually make a difference to these patients through diet and environmental enrichment.
Dietary therapy
Dietary therapy has been shown to help combat signs of brain ageing and improve the learning ability of older dogs in a highly-controlled laboratory environment, in a less controlled home environment, and in a multi-centre clinical study.1–4 The principle behind dietary therapy for CDS is to protect against free radical damage to nervous tissue and to support efficient energy production by the mitochondria. This is achieved by inclusion of: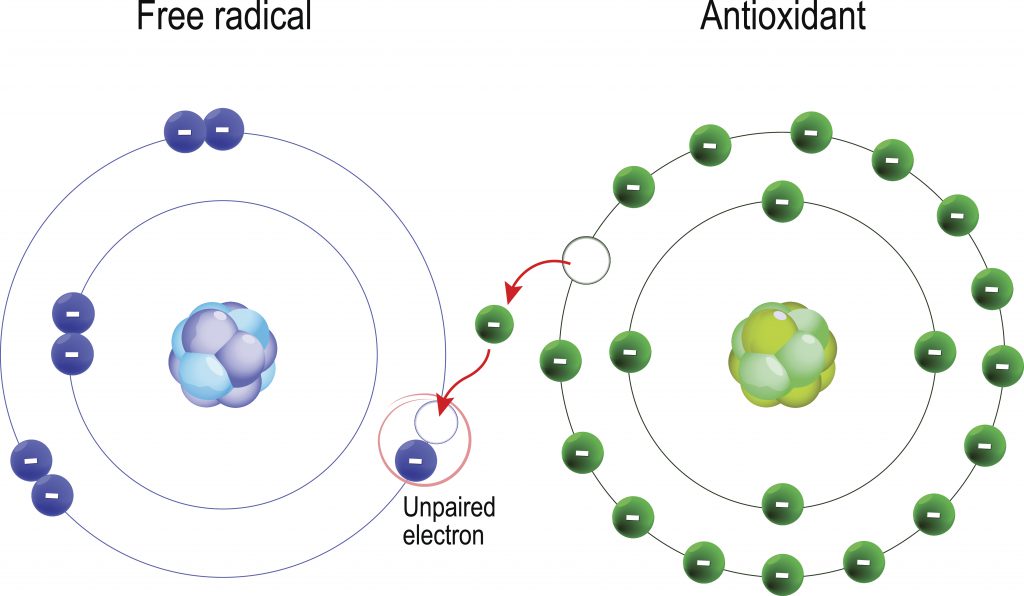 high levels of the antioxidants vitamin E, vitamin C, beta-carotene and selenium to neutralise free radicals
a combination of fruit and vegetable ingredients rich in carotenoids and flavonoids which reduces cell damage by inactivating free radicals
mitochondrial co-factors L-carnitine and alpha lipoic acid which increase the efficiency of energy production by the mitochondria and decrease free radical production
omega-3 fatty acids DHA & EPA which help strengthen neural cell membranes and protect them from free radical damage
Short term memory loss provides the first indication of cognitive dysfunction in humans, however methods of evaluating short-term memory loss in humans are typically neither applicable nor feasible in dogs. Neuropsychological tests were therefore developed to provide quantitative measures of cognitive function in dogs.5
Improving age-associated behavioural changes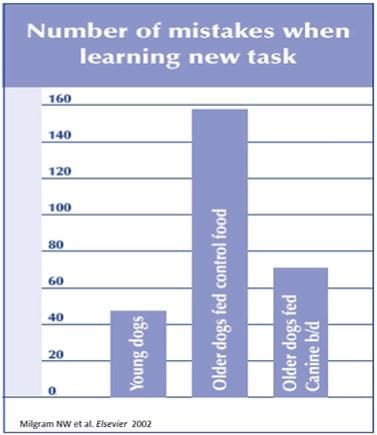 To test the proposed food's ability to improve age-associated behavioural changes, a 2 year randomised, controlled clinical trial was performed using groups of old and young Beagles.1,2 The dogs were fed either a base food (control) or base food supplemented with antioxidants including vitamins A and C, α-lipoic acid, L-carnitine, and fruit and vegetable extracts. Each animal was trained in a series of learning tasks of increasing difficulty. As expected, the older animals learned more slowly and made more errors than the young dogs in all tasks and as the task became more difficult, the older animals had a harder time with it. However, the old dogs fed the test diet for 6 months made 58% fewer mistakes when learning a new task than those fed a control food.1,2 Older dogs fed the test diet also showed improved alertness and increased attentiveness to problem-solving tasks.
Canine alzheimer's and learning ability
Learning ability was shown to be best preserved in older dogs by the use of a combined program of dietary fortification and behavioural enrichment. This combined program proved to be more effective than either dietary fortification or behavioural enrichment alone.1 The behavioural enrichment component included a program of cognitive enrichment, increased physical activity (exercise by hand walking on a leash for at least 30 minutes twice a week) and environmental enrichment such as being housed with another dog and the provision of toys that were rotated weekly.1 The results of the study did not distinguish the relative importance of each of the behavioural interventions, however the researchers suspected that cognitive enrichment was particularly important. The cognitive enrichment program consisted of a broad range of tasks, all of which could be solved with a discrimination learning strategy, but the mechanisms underlying the effect remain unknown.1 One possible explanation is that cognitive enrichment increases behavioural flexibility, and thereby modulates age-dependent cognitive decline. The second possibility is that cognitive enrichment affects brain structure, a proposal supported by studies in which an increased number of synaptic contacts were found in the cerebellum of rats trained on a motor learning task.6
Behavioural enrichment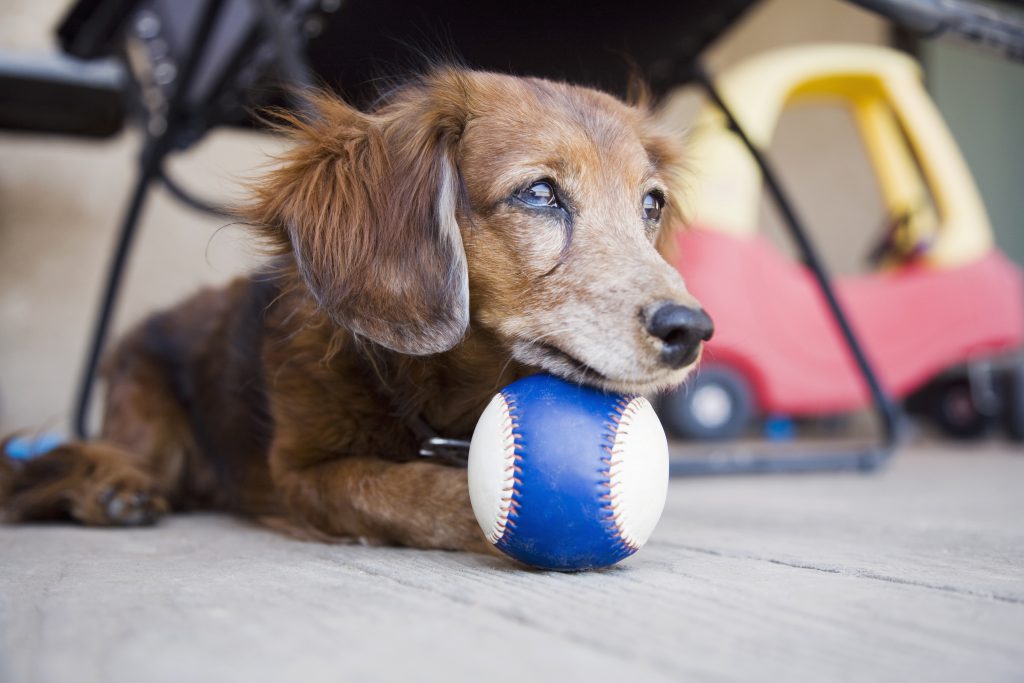 So, as the saying goes in people, and as it appears to apply in dogs, "if you don't use it, you lose it" – mental exercises may help to delay the progression of canine alzheimer's and dogs are never too old to learn new tricks. Advising owners to add hand signals to commands may help a dog with hearing loss to understand, and the mental activity can improve overall cognitive function. Encouraging owners to implement behavioural enrichment by providing different and alternating toys, playing with their dog and continuing to stimulate their pet mentally are important components of CDS management.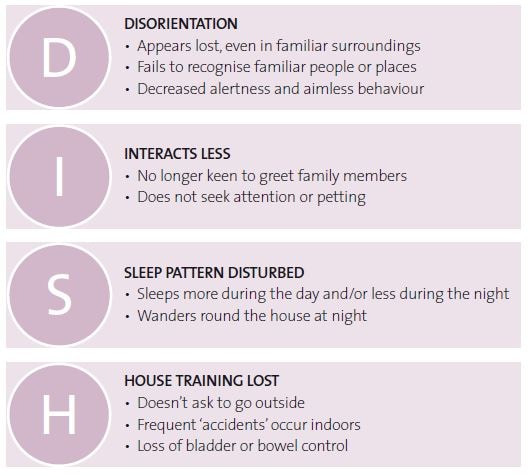 The test diet described above became Hill's Prescription Diet b/d and was also evaluated in the home by owners of older dogs.3 Two in-home use studies were conducted with dogs aged 7 years and older: the dogs were evaluated by their owners by comparing behaviour before and after feeding their current food or the test diet. In the first study, after only 30 days of feeding b/d, owners reported significant improvements in all DISH signs.3
As explained in the first brain ageing blog, DISH stands for clinical signs of Disorientation, Interaction changes, Sleep or activity changes & House training lost.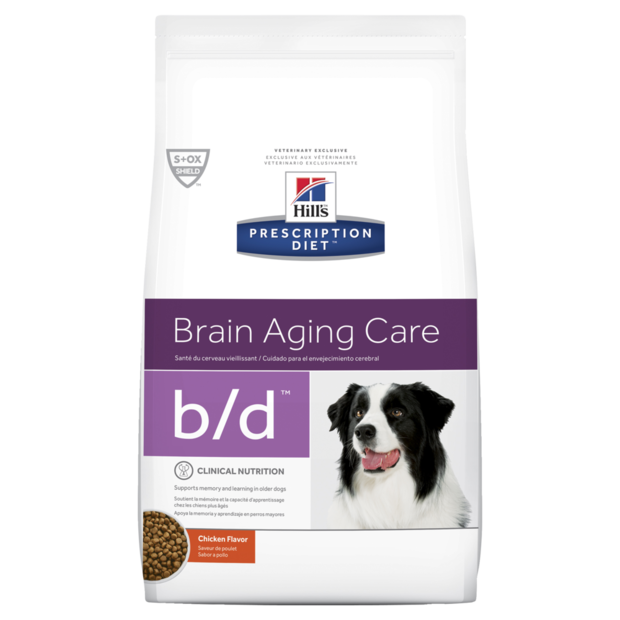 Results from the second study reported that enthusiasm in greeting family members increased in 61% of older dogs fed the test diet, and 74% of older dogs with a history of house-soiling 'accidents' experienced a reduction in accidents after consuming b/d.3 Finally, a 60-day, double-blinded, randomised, multi-centre clinical trial involving 125 dogs aged 7 years or older was published in 2003.4 These dogs had a history of cognitive decline, with clinical signs in at least two of the DISH categories. A standardised questionnaire was completed by owners on day 1 & day 60. Dogs consuming the b/d showed significant improvements in 13 of 15 individual behavioural attributes across all DISH categories (compared to 4 out of 15 in the control group).4
In summary, Canine Alzheimer's is a common problem in older dogs that can dramatically impact on the human animal bond.
If you are keen to learn more, why not click through to our webinar recording on "The Tell Tail Signs of Ageing: Cognitive Dysfunction" with Behavioural Specialist Dr Kersti Seksel.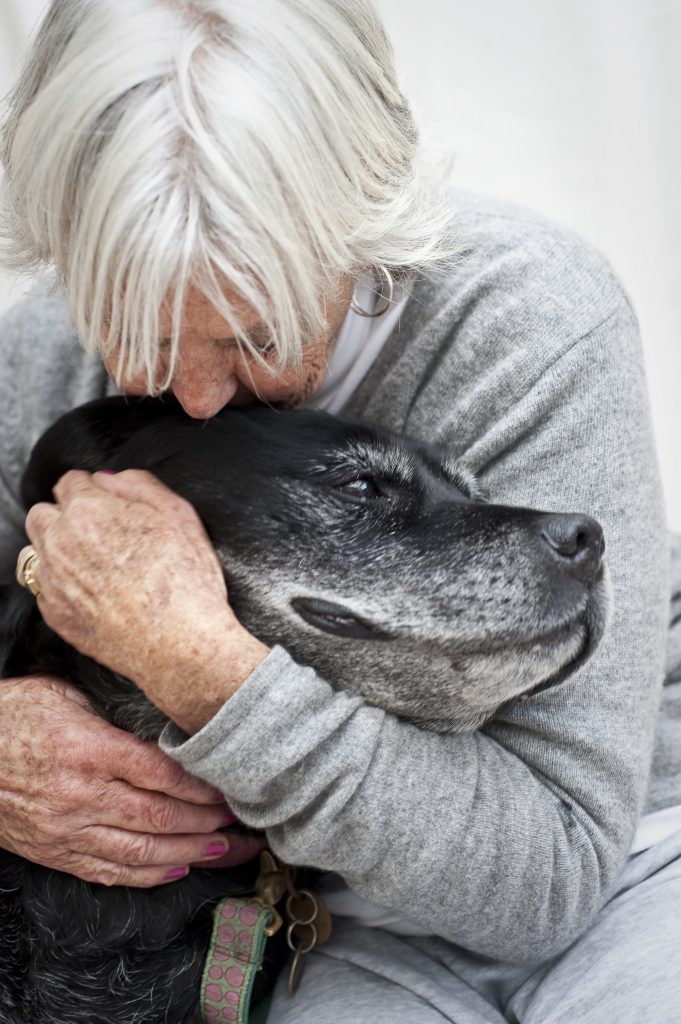 Hopefully these blogs have prompted you to ask your older dog owners whether they are seeing any DISH signs in their ageing best friend. One way to prompt the discussion is to send out senior pet checklists for owners to complete prior to coming in for senior checkups, or ask them to complete them in the waiting room. These can include behavioural questions relating to CDS signs, as well as other questions related to ageing such as dental or osteoarthritis concerns, for example. Next time you are presented with a CDS patient, consider incorporating dietary therapy with Hill's Prescription Diet b/d and make sure you educate owners about the benefits of environmental enrichment as well☺.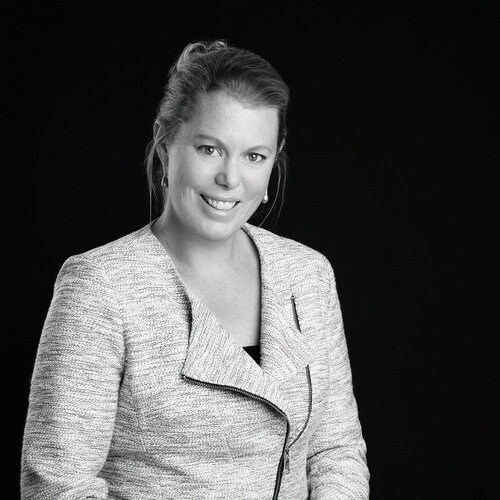 Dr Jennifer Ervin BVSc (Hons) MPH
Jen graduated from the University of Melbourne with a BVSc (Hons) in 1999 and has had a long-standing and successful career in the veterinary profession. She has worked in multiple practices in Australia and the UK across both large and small animals. Jen started her industry career as a Veterinary Territory Manager for Hill's Pet Nutrition and has spent more than 10 years as a Professional Consulting Veterinarian for Hill's which, during this time she completed a Masters Degree in Public Health. Jen is currently a PhD Scholar at the University of Melbourne and an Advisory Board Member for Melbourne Veterinary School at the University of Melbourne.
References:
Milgram NW, Head E, Zicker SC et al. Learning ability in aged beagle dogs is preserved by behavioural enrichment and dietary fortification: a 2 year longitudinal study. Neurobiol Aging 2005; 26:77.
Milgram NW et al. Landmark discrimination learning in the dog: effects of age, an antioxidant fortified food, and cognitive strategy. Neuroscience & Behavioural Reviews, Published by Elsevier 2002.
Hill's Prescription Diet b/d Canine In-Home Use Tests I & II. Data on file. Hill's Pet Nutrition Inc. 2001.
Dodd CE, Zicker SC, Jewell DE et al. Can a fortified food affect the behavioral manifestations of age-related cognitive decline in dogs? Vet Med 2003; 98:396.
Milgram NW, Head E, Weiner E, Thomas E. Cognitive functions and aging in the dog: acquisition of nonspatial visual tasks. Behav Neurosci 1994; 108:57-68.
Anderson BJ, Alcantara AA, Greenough WT. Motor-skill learning: changes in synaptic organisation of the rat cerebellar cortex. Neurobiol Learning and Memory, 1996: 66: 221-229.
(HIMA-JE-171337D0 & MR_16.11.2021).