What can I feed my patient with a history pancreatitis?
What can I feed my patient with a history of pancreatitis is a really common question we get asked on the Veterinary Consultation Service – particularly if a patient has another concurrent disease condition.
Pancreatitis, especially in the dog, is a fairly common diagnosis. We know that feeding something 'low in fat' is usually recommended, but how do you know exactly what that looks like?
Determining how much fat a patient can tolerate:
Determining how much fat a patient can tolerate depends on the medical history. A canine patient, for example, with a history of an acute pancreatitis episode after ingestion of a single, high fat meal (such as a marrow bone) may actually tolerate a moderate fat level.
To determine how much fat a patient can tolerate, you can do a 12-hour fasting serum triglyceride blood test. If the patient is not obese and their fasting triglycerides are within normal limits then the patient may be able to tolerate a fat percentage up to 15% on a dry matter basis (DMB).1
If the patient is obese or hyper-triglyceridaemic on the 12 hour fasting blood test, then the fat percentage needs to be less than 10% DMB.1 Hill's Prescription Diet i/d low fat makes a great option here with a fat content of 7.7% DMB.
Hill's i/d low fat is clinically shown to reduce fasting serum triglycerides (a risk factor for pancreatitis). 2 It is also highly digestible and the high levels of omega 3 fatty acids help to break the cycle of inflammation. i/d low fat contains added antioxidants and also includes ginger to help soothe the gastrointestinal tract.2 Prebiotic fibres- beet pulp and flaxseed, act as an energy source for beneficial bacteria lactobacillus and bifidobacterium. These can help restore the balance of the gastrointestinal microbiome. 3 You can learn more about the microbiome here.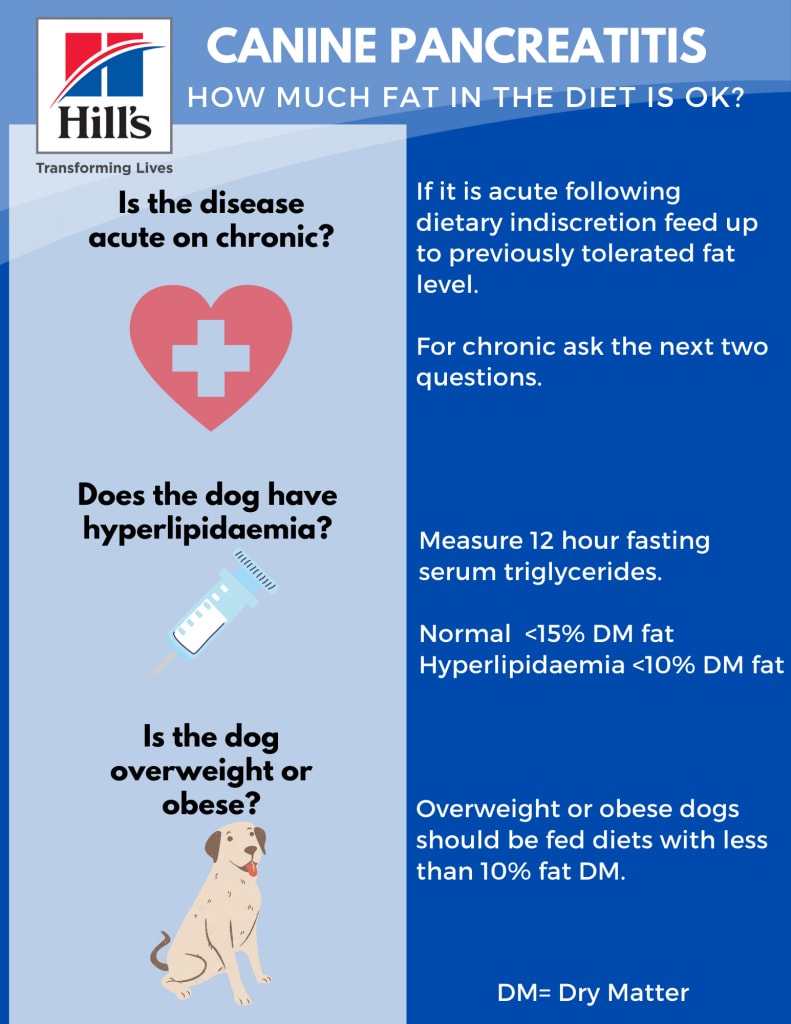 What about cats with pancreatitis?
Cats don't tend to be as fat sensitive as dogs and for cats that are non hypertriglyeridaemic or non-obese a fat percentage up to 25% can often be used. If the cat is obese and/or hypertriglyeridemic then the fat needs to be ≤15%.1 For cats that have normal triglyceride levels and are non-obese then Hill's Prescription Diet i/d is generally the preferred dietary option with a fat percentage of 20.8% on a dry matter basis.
Do you have a complicated case that you would like advice on? Contact the Hill's Helpline on 1800 679 932.
References:
Davenport DJ, Remillard RJ, Simpson KW, Acute & Chronic Pancreatitis in Small Animal Clinical Nutrition, 5th Edition, Chapter 67, page: 1147.
Hill's Pet Nutrition, Data on File, 2012.
Ghayur MN, Gilani AH, Pharmacological Basis for the Medicinal Use of Ginger in Gastrointestinal Disorders. Dig Dis Sci 2005; 50(10): 1889-1897.
Data on file, Hill's Pet Nutrition, 2011.
Dr Bryony Senic, BSc,BVMS
Bryony graduated in 2007 from Murdoch University in Perth. She worked as a veterinarian in small animal practice treating primarily dogs and cats for almost 7 years before moving to an industry role with Hill's Pet Nutrition in 2015. She works as a Professional Development Veterinarian for South Australia and Western Australia and is passionate about nutrition in pets.