As practitioners, we realise that appropriate nutrition for gastrointestinal disease is part of the mainstay of treatment, but which diet should you choose for which condition from the range of Hill's options?
This is a really common question and whilst every patient is different here are some general guidelines to help you choose what to try first.
Diet Types for Gastrointestinal Disease
There are four main types of gastrointestinal diets:
Highly digestible (eg Hill's Prescription Diet i/d)
Increased fibre (eg Hill's Prescription Diet Gastrointestinal Biome, Hill's Prescription Diet w/d)
Low fat (Hill's Prescription Diet i/d Low Fat)
Low allergen

Novel ingredients (eg Hills Prescription Diet d/d)

Hydrolysed protein (eg Hill's Prescription Diet z/d)
To determine the right nutrition for gastrointestinal disease, the first question you need to ask yourself is:
Is the diarrhoea small bowel or large bowel?
It can be a bit of trial and error to determine the best diet for a particular patient; however this will help guide you with choosing an initial dietary option. Here is a handy table to help you ascertain whether it is small or large bowel. Some patients will have a mix of both small and large bowel, in which case you will need to experiment to determine the best diet.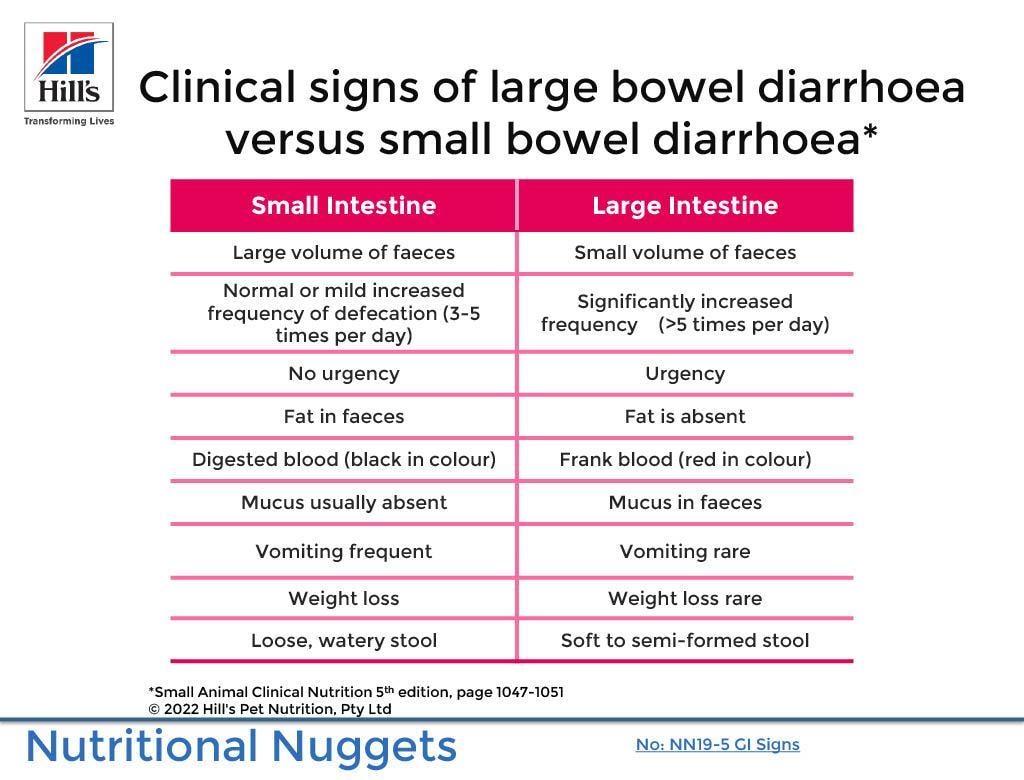 The next question to ask is what diet has been previously tried (if any) and was the owner compliant 100% of the time?
Small bowel disorders
You may wish to choose a nutritional option which is low fat (dog), highly digestible, or a novel/hydrolysed protein, depending on the condition.
Acute enteritis and gastroenteritis
Typically, start with a highly digestible diet unless underlying food allergy or pancreatitis is suspected1. These patients may require small, frequent meals.
For acute diarrhoea, dietary indiscretions or recovery from surgery, we tend to recommend Hill's Prescription Diet i/d. It is highly digestible, making it easier for the patient to digest and absorb the nutrients. This in turn reduces the feeding volume and means less 'residue' or waste is left in the GI tract for elimination. Additionally it contains high levels of B complex vitamins and electrolytes to help replace any losses through vomiting and diarrhoea.
Hill's Prescription Diet i/d Canine is fortified with Hill's ActivBiome+ ingredient technology, a proprietary blend of prebiotics shown to rapidly activate the gut microbiome to support digestive health and well-being *. Hill's Prescription Diet i/d Feline contains prebiotic fibre (FOS) to support beneficial gut bacteria.
This diet is also complete and balanced for puppies and kittens. Rather than withholding food we now recommend early feeding. There are multiple benefits in this, including improved recovery time, decreased bacterial translocation and sepsis, and avoiding mucosal atrophy2. You can read more about it here.
* Canine i/d dry and loaf only
Food Responsive Chronic Enteropathy
This condition may result from an allergic reaction to certain dietary proteins and often responds to diet change alone. For this condition we want to limit the amount of undigested protein in the gastrointestinal tract able to provoke an allergic reaction and avoid common food allergens. We would recommend choosing a diet made with either a single novel animal protein source (e.g. Hill's Prescription Diet d/d) or a hydrolysed protein (e.g. Hill's Prescription Diet z/d) 3. Hill's d/d contains venison as the animal protein source whilst Hill's z/d contains hydrolysed chicken.
For fibre responsive enteropathies, Hill's Prescription Diet Gastrointestinal Biome makes an excellent choice.
Acute pancreatitis, exocrine pancreatic insufficiency or lymphangiectasia
For dogs we typically want to feed something that is low in fat and highly digestible, so Hill's Prescription Diet i/d Low Fat makes a great option here, with a fat content of 7.5% on a dry matter basis in the dry formulation and 7.8% DMB and 8.7% DMB in the loaf and stew respectively4,5. Hill's Prescription Diet i/d Low Fat also has the ActivBiome+ ingredient technology. You can read more about pancreatitis here.
Large Intestinal Disorders
Patients with primarily large bowel signs may respond better to a higher fibre diet.6 Other options are the novel or hydrolysed protein or highly digestible diets.
Fibres can be classified depending on their solubility and their fermentability.
Soluble fibres dissolve in water and have a gelling effect and tend to delay gastric emptying and slow transit time.
Insoluble fibres do not dissolve in water and some can provide a bulking effect by absorbing water as they move through the digestive system. This can assist the movement of food through the gastrointestinal tract by stimulating peristalsis.
Fermentable fibres have a pre-biotic effect, so feed the beneficial bacteria and the bacteria in turn produce short chain fatty acids such as butyrate which acts as an energy source for the colonocytes. You can read more about the microbiome here.
Hill's Prescription Diet Gastrointestinal Biome is an excellent choice for patients with colitis, as well as patients with antibiotic responsive diarrhoea, steroid responsive diarrhoea, fibre responsive enteropathies, infectious diarrhoea or patients with suspected dysbiosis . This food also contains ActivBiome+ ingredient technology, along with added psyllium and pumpkin. Hill's Gastrointestinal Biome has demonstrated clinical results in cats with constipation or diarrhoea7 and dogs with diarrhoea8 in as little as 24 hours. This diet contains both soluble and insoluble fibres. You can learn more about successful management of colitis using Gastrointestinal Biome here.
Hill's w/d contains a higher amount of insoluble fibre so is useful in cases where bulking to the stool is required. Please see the table below for further indications.
Length of food trial
When doing a food trial for patients with gastrointestinal signs they typically should respond within 2-4 weeks, so if you are not seeing results within that period you can try another dietary option9.
You can learn more about nutrition for gastrointestinal disease here.
If you have a complicated case that you would like nutritional advice on then please contact the Veterinary Consultation service via our JotForm here or contact us on 1800 800 733.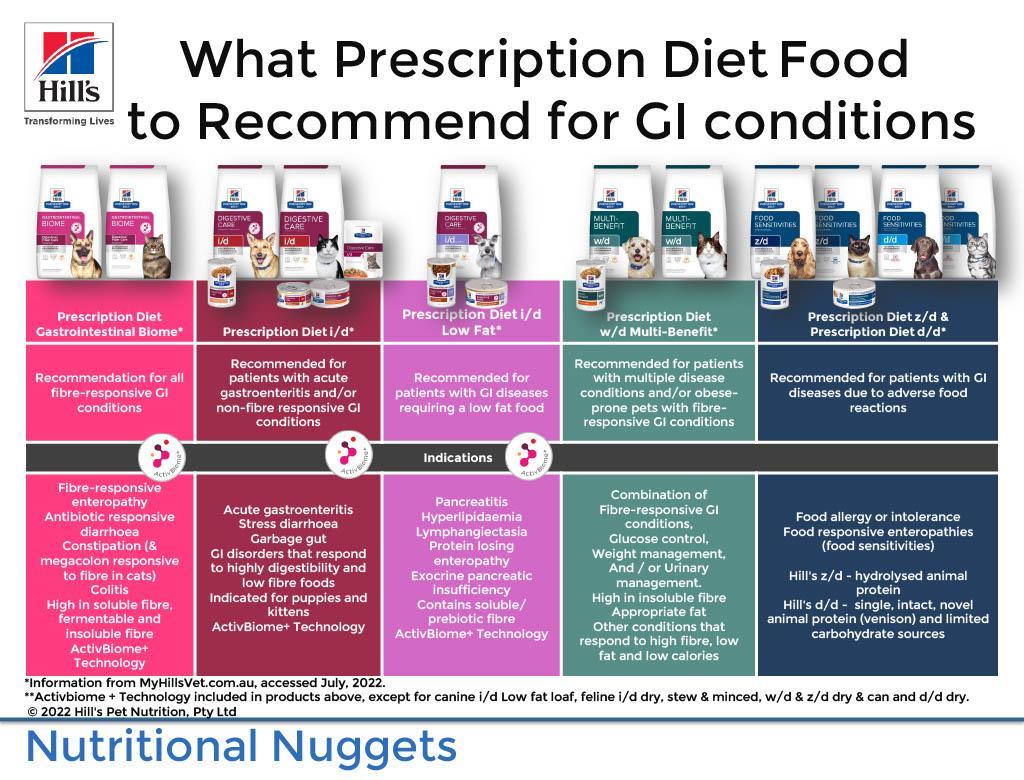 Dr Bryony Senic, BSc,BVMS
Bryony graduated in 2007 from Murdoch University in Perth. She worked as a veterinarian in small animal practice treating primarily dogs and cats for almost 7 years before moving to an industry role with Hill's Pet Nutrition in 2015. She works as a Professional Development Veterinarian for South Australia and Western Australia and is passionate about nutrition in pets.
References:
1: Cave N. Dietary Approach to Gastrointestinal Disorders. In: Acute Gastroenteritis. Proceedings of the 2010 World Small Animal Veterinary Association Congress.
2: Mohr AJ, Leisewitz AL, Jacobson LS, et al. Effect of early enteral nutrition on intestinal permeability, intestinal protein loss, and outcome in dogs with severe parvoviral enteritis. J Vet Intern Med 2003;17:791-798
3. Davenport DJ, Jergens AE, Remillard RL. Inflammatory Bowel Disease. In Hand, MS, Thatcher CD, Remillard RL et al (eds). Small Animal Clinical Nutrition, 5th Edition,2010: 1069
4. Hill's Pet Nutrition, Data on File, 2012
5. Davenport DJ, Remillard RJ, Simpson KW, Acute & Chronic Pancreatitis in Small Animal Clinical Nutrition, 5th Edition, 2010: 67: 1147
6. Davenport DJ, Remillard RL, Carroll M. Large Bowel Diarrhoea: Colitis. In: Hand MS, Thatcher CD, Remillard RL et al (eds). Small Animal Clinical Nutrition, 5th Edition, 2010: 1103-1104
7. Wernimont, S.M., et al. Food with Specialized Dietary Fiber Sources Improves Clinical Outcomes in Adult Cats with Constipation or Diarrhea (in a 2 Month Study). FASEB J. 2020;34(1). 8. Fritsch, D.A., et al. Food with Novel Fiber Blend Improves Clinical Outcomes and Changes Gastrointestinal Microbiome Metabolism in Dogs (in a 2 Month Study). J Vet Intern Med. 2019;33(5):2513.
9. Roudebush P, Guilford WG, Shanley KJ, Adverse Reaction to Food. In . In Hand, MS, Thatcher CD, Remillard RL et al (eds). Small Animal Clinical Nutrition 5th Edition. 31:625
Updated September 2022
HIMA-BS-2205D4D3