Choosing the right Derm Diet for your canine patient can be a tricky business!
There is a plethora of allergy diets on the market from limited ingredient, novel protein, hydrolysed and "ultra" hydrolysed diets for food allergic patients to a multitude of diets with skin benefit claims for canine environmental allergies.
At Hill's we are striving to simplify this decision with our new diet Hill's Prescription Diet Derm Complete which was specifically developed and clinically tested for dogs with food and/or environmental allergies. You can read more about the clinical trials conducted here but for now let's look at the new simplified Hill's decision tree for skin cases:
Initial presentation of canine allergies
Quite simply, when a pruritic patient is presented to you for the first time, we recommend that you start on Derm Complete while you run through your initial workup. Derm Complete will also avoid 96% of food allergens in food allergic dogs since allergies to egg proteins are very uncommon. Egg protein account for only about 4% of all dogs diagnosed with a food allergy. If after 4 weeks on Derm Complete you get an insufficient or no response, we recommend conducting a food trial with your preferred elimination diet, such as Hill's Prescription Diet z/d.
If you highly suspect a food allergy from the initial presentation (eg: a young patient, less than two years old that has non seasonal pruritis) or you have a patient with a known allergy to egg; then we recommend that you go to straight to a diet trial and use your preferred elimination diet.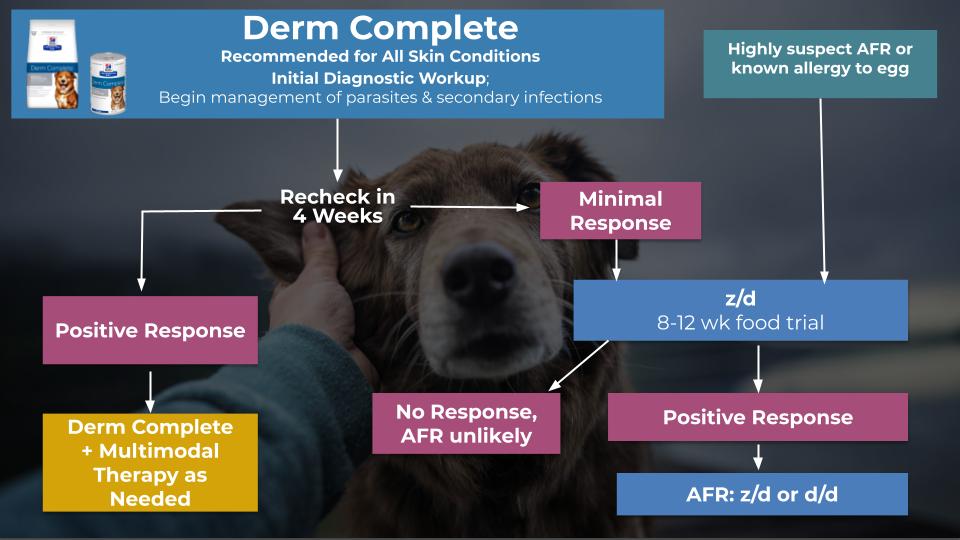 Easier client compliance
Starting on Derm Complete from the get go helps to improve client compliance by reducing the need to diet switch from a diet designed for a diet trial to a diet designed for environmental allergies. Pet parents often get frustrated at this point and are reluctant to try a second diet when the first one hasn't worked. Many will return to their original diet which likely does not contain ingredients to support the skin barrier or reduce inflammation. The pet parent should notice a visible improvement in the skin and a reduction in pruritis over the initial 4 weeks, which is what we found in our clinical trial.
Ongoing management of canine allergies
Derm Complete is a great addition to the ongoing management of these pruritic pets, and can be used as part of your multi-modal management plan alongside oral and other medications to continue to help support a healthy skin barrier against environmental irritants — year round.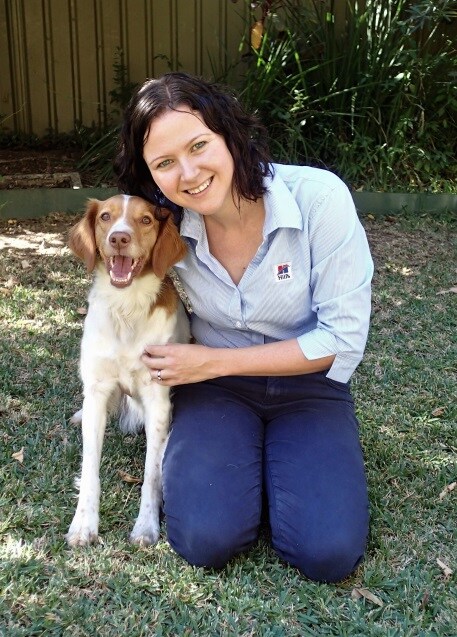 Dr Danielle Page BVSc, Bcomm, Professional Consulting Veterinarian, Hill's Pet Nutrition New Zealand with Rosie
Danielle completed a Bachelor of Commerce from Sydney University in 2003. She then decided to pursue
a veterinary degree and graduated from Massey University in 2008. She worked as a small animal
veterinarian in Canberra, ACT and then Florida, USA for four years. In 2012 she became the Technical
Services Veterinarian for Florida for a veterinary nutrition company and subsequently, Clinical
Trials Manager for the USA. In 2014 she moved back to NZ with her family and joined the Hill's
Professional Veterinary Affairs team and is the Hill's Professional Consulting Veterinarian for NZ.
References
Mueller RS, Olivry T, Prélaud P. Critically appraised topic on adverse food reactions of companion animals (2): common food allergen sources in dogs and cats. BMC Vet Res. 2016;12:9
Wernimont, SM, Thompson, RJ, Mickelson, SL, et al. Use of accelerometer activity monitors to detect changes in pruritic behaviors: interim clinical data on 6 dogs. Sensors. 2018(18):249.
Witzel-Rollins A, Murphy M, Becvarova I, Werre SR, Cadiergues MC, Meyer H. Non-controlled, open-label clinical trial to assess the effectiveness of a dietetic food on pruritus and dermatologic scoring in atopic dogs. BMC Vet Res. 2019;15(1):220
HIMA-DP-21028729