Introducing Hill's Prescription Diet Derm Complete
Canine allergies are often frustrating, for the patients that suffer from them, for the owners who care for them, and for the veterinarians who treat them! It's estimated that more than 50% of allergies in dogs are caused by environmental allergens. We know that 20-30% of food allergic dogs also have concurrent environmental allergens. This can make dietary trials difficult, and in some circumstances lead to poor results.
Hill's Prescription Diet Derm Complete has been developed to simplify the dietary management of atopic dermatitis and/or food allergies in dogs. It has been clinically tested for both of these indications. It's a great option to provide relief for your canine allergic patients from the first presentation. It can also be used in the longer term as part of a multimodal management strategy for both types of allergies.
What's in Hill's Derm Complete?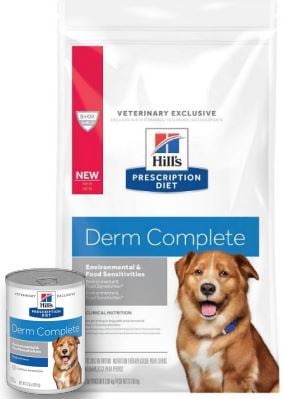 Hill's Prescription Diet Derm Complete contains HistaGuard Complex, first introduced and used in Hill's Derm Defense. HistaGuard Complex is a proprietary complex of bioactives and phytonutrients. It helps reduce the signs and discomfort caused by environmental allergies by dampening the internal allergy response and creating a barrier against future episodes.

Derm Complete also contains a single intact animal protein source, egg, which not only avoids common canine food allergens such as chicken and beef, but has also been shown to help reduce the duration and severity of allergic reactions. Studies have shown that egg is a very uncommon cause of food allergies in dogs, making up only around 4% of all reported food allergies, or 0.4% of all causes of allergic skin disease.
The Evidence
To date, three multicentre, double-blinded, controlled longitudinal studies have been completed. These have been on client owned dogs with either environmental or food allergies. In the 47 dogs with environmental allergies that completed the first study, owners reported significantly less scratching and better sleep quality when their atopic pet was fed Derm Complete versus the control food group.
---
---
We also wanted to ensure that Derm Complete was as efficacious as one of the most commonly recommended competitor hydrolysed diets for food allergic patients. To this end, Hill's conducted a 21 day diet trial with 60 confirmed food allergic patients,. Throughout the study, there were no significant differences between the test and control groups, thus showing that Derm Complete can be fed to patients known to have food allergies. In fact, there was a significant improvement in veterinarian reported skin healing scores in the dogs fed Derm Complete after 21 days, compared to the control diet7.
Formulated to help support a healthy skin barrier year-round
Derm Complete starts working from the very first bowl.
Single high-quality intact animal protein, egg that avoids 96% of food allergies
With HistaGuard Complex, a proprietary blend of bioactives and phytonutrients
Formulated to support the skin's barriers against environmental irritants — year round.
The Results
Pet parents reported a reduction in scratching in 82% of dogs with environmental allergies
Visible skin healing is as little as 21 days in dogs with food allergies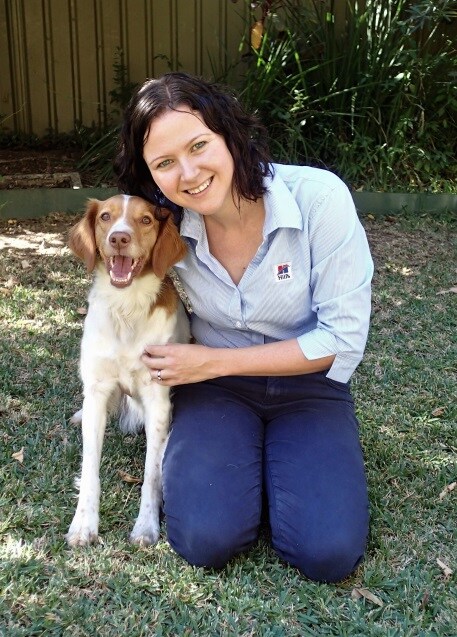 Dr Danielle Page BVSc, Bcomm, Professional Consulting Veterinarian, Hill's Pet Nutrition New Zealand with Rosie
Danielle completed a Bachelor of Commerce from Sydney University in 2003. She then decided to pursue
a veterinary degree and graduated from Massey University in 2008. She worked as a small animal
veterinarian in Canberra, ACT and then Florida, USA for four years. In 2012 she became the Technical
Services Veterinarian for Florida for a veterinary nutrition company and subsequently, Clinical
Trials Manager for the USA. In 2014 she moved back to NZ with her family and joined the Hill's
Professional Veterinary Affairs team and is the Hill's Professional Consulting Veterinarian for NZ.
References
Verlinden A, Hesta M, Millet S, Food allergy in dogs and cats: A review Crit Rev Food Sci Nutr. 2006
D Jewell et al. (2015). The effect of Egg on Selected Immune System Parameters of the Dog.; Data on File. Hill's Pet Nutrition, Inc., Topeka, KS 2014
Mueller RS, Olivry T, Prélaud P. Critically appraised topic on adverse food reactions of companion animals (2): common food allergen sources in dogs and cats. BMC Vet Res 2016;12:9
Clinical Evidence Report, Client-owned dogs with canine atopic dermatitis fed Hill's Prescription Diet Derm Complete in a multi-centre, blinded, controlled, longitudinal study demonstrated significant improvements in owner-reported clinical signs and sleep quality Hill's Pet Nutrition, Inc. Data on file, 2020.
Reference products utilised: Royal Canin Ultamino Dry Dog Food; Royal Canin Anallergenic Dry Dog Food. The referenced Royal Canin products are trademarks of Royal Canin.
Weemhoff et al, Successful nutritional control of scratching and clinical signs associated with adverse food reaction: A randomized controlled COSCAD'18 adherent clinical trial in dogs in the United States. JVIM 2021 35(4) 1884-1892
Weemhoff et al, Successful nutritional control of scratching and clinical signs associated with adverse food reaction: A randomized controlled COSCAD'18 adherent clinical trial in dogs in the UK. JVIM 2021 35(4) 1893-1901
HIMA-DP-21028729