The most common presenting complaints of cats are lethargy, inappetence and weight loss. The most vague of all the clinical signs! This means that investigating,communicating and managing feline medical disease is often quite the journey. It's very rare that we can diagnose feline patients whilst we are in the consultation room with them.
We need to ensure we communicate with clients at every step to ensure that cat owners stay along for the ride as we guide them through the process of diagnostic investigation and subsequent treatment recommendations. Luckily, we can adopt small changes in our communication strategy to make sure anyone in the veterinary healthcare team is communicating effectively with clients and significantly improve the journey for all the animals (and humans) involved!
Communication
Communication in healthcare is important and has been proven to be effective.
We know it can lead to;
better clinical outcomes,
improved client satisfaction with the veterinary team
improved client compliance
If we extrapolate from human medicine, studies have shown that the patient's perception of the healthcare QUALITY is highly dependent on how good the interaction was with their doctor.
Interestingly, what we think is a good service and what our client thinks is a good service are often different. Clients ultimately want their veterinary healthcare team to be kind, gentle, respectful and informative. If we can meet these expectations, then we go a long way in building trust and a good rapport with our clients. And this is a VITAL step.
There are 3 fundamental communication strategies that you can implement today to help improve your client relationship that can result in better health outcomes for your feline patients.
Ask-Tell-Ask
The goal with 'ask-tell-ask' is to;
find out what cat owners know so we can then help build on their knowledge
improve adherence
have a collaborative coaching style and find out from pet owners what they are willing to do.
open a dialogue about what obstacles owners might be concerned about so we can then help overcome these obstacles.
build a relationship, as it shows you are willing to listen to and negotiate the healthcare plan
Strategy
What is their understanding of the situation?
– eg hopes, fears, concerns
Provide information tailored to their answer and then provide new information that adds to what they all ready know
Ask what their understanding is now
Examples
What is the reason you haven't been able to feed Felix the diet we discussed?
How does this information help with some of your concerns about Felix and this food trial?
How has your mindset changed?
What will be different this time with Felix's food trial?
Tell me more
The goal of 'tell me more' is to;
Use an open ended query
Other open ended sentences often start with "What," "How," "In what way," and "Tell me …" or "Describe…"
Try and avoid 'why' as this can provoke defensive responses.
Examples
Tell me more
Tell me more about what information you need now
Tell me more about how you are a feeling regarding the plan we have formulated for Felix today
Tell me what this means to you
You seem hesitant to go ahead with Felix's dental procedure. Tell me more about what is worrying you
Non verbal communication
Over half of communication is non-verbal. Even with face-to-face communication, it is largely non-verbal!
Four forms of non-verbal cues
There are 4 forms of non-verbal cues for veterinary personnel to consider:
Kinesics – facial expressions, touch, movement, body tension etc.
Proxemics – refers to the use of space ie the space between you, the client and the pet.
– be conscious of height differences
– be conscious of body position – face to face can be confrontational; try to be side by side or at an angle to each other.
– are there obstacles in the way eg examination table, computer, reception desk?
Paralanguage or paralinguistics – the pitch, tone and volume of your voice.
Autonomic shifts – influenced by the autonomic nervous system eg starting to tear up, shift in breathing, palms are sweaty etc
Research suggests that facial expressions are far more powerful than the actual words used.
An additional non-verbal skill is called 'mirroring' or 'matching', where you mirror the other person's body language
The goal with mirroring is to;
Build trust – we trust people who appear the same as us.
Reduce defence mechanisms – if they are crossing their legs and have their arms crossed, you can mirror this and then slowly relax your body language and they may subconsciously relax too.
Deescalate a situation – eg during difficult or aggressive conversations, you can deescalate by adjusting to less confrontational body language.
Hurdles with good communication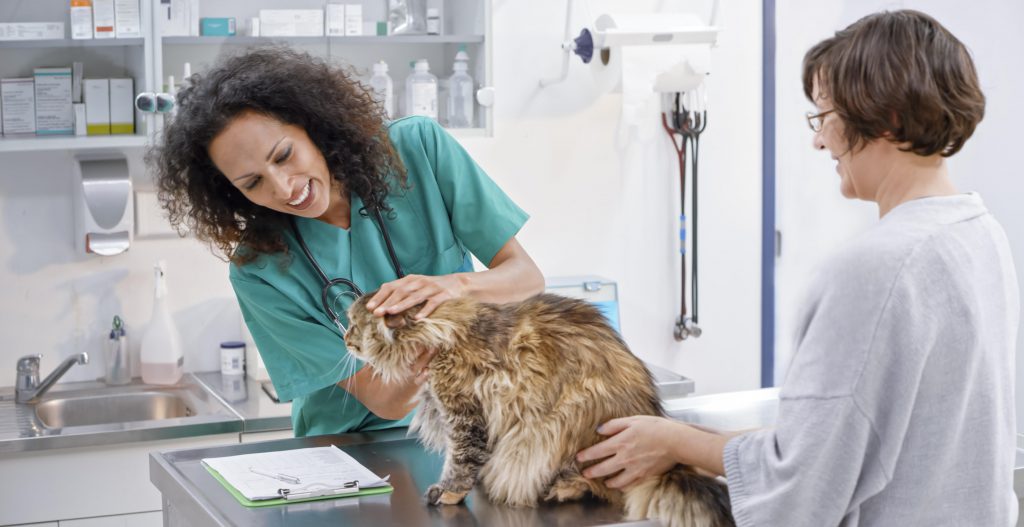 Have you or your team ever pursued communication training?
What hurdles do you think you could overcome to ensure great communication in your clinic?
Are you utilising everyone in your team?
What changes could you make with new clients to help build trust?
What changes could you make with new graduates or any new team member to help them connect with your client base?
What can you do to meet your clients expectations when they visit your vet clinic?
How can you help your staff be kind and gentle?
How can you ensure your staff are respectful and informative?
How can you facilitate a reputation for high quality care?
What can you do next?
A World Health Organisation report on adherence with long term therapies revealed that "adherence is the single most important modifiable factor that compromises treatment outcome". It also shows "increasing the effectiveness of adherence interventions may have a far greater impact on the health of the population than any improvement in specific medical treatments."
Set yourself a goal or a task to focus on for just one week, or one day, or one consultation. Examples include;
Empathic listening and really focus on making sure the client feels heard.
Be conscious of verbal vs non-verbal communication eg what is the client's non-verbal body language telling me?
Utilise Ask-Tell-Ask.
What can I do to help with compliance and adherence with the next feline consultation you see? Whether it is recommending a weight loss program, regular preventative health strategies or helping the owner give medication.
For tips on approaching and communicating to owners that their cat is obese visit our blog on "Approaching the Owner of an Obese Pet" here.
Elizabeth Thrift
BVSc (Hons) FANZCVS (small animal internal medicine) NSW V8427
Registered Australian Specialist in Small Animal Internal Medicine.
Certified Fellow of the Australian and New Zealand College of Veterinary Scientists.
Northside Veterinary Specialists – Internal Medicine Department.
Elizabeth graduated from the University of Sydney with honours in 2007 and then worked in small animal general practice in Sydney for three years. In 2011, she completed a multi-discipline internship in medicine, surgery, ophthalmology and emergency/ critical care which confirmed her interest in small animal internal medicine. She then went on to complete an internal medicine internship and subsequently an internal medicine residency. Elizabeth is a fellow of the Australian and New Zealand College of Veterinary Scientists in small animal internal medicine.
Elizabeth works as a clinical veterinarian as a Small Animal Internal Medicine Specialist at Northside Veterinary Specialists in Sydney. She is also the Director of Clinical Improvement & Innovation and runs the Internship & Mentorship program. She is a tutor in the PlatinumCPD Feline Medicine distance education course and has provided a number of talks and webinars on both feline and canine small animal medicine topics.
When it comes to feline medicine, this is what Dr Liz has to say:
"In my time as a vet in both general practice then specialist practice, I've seen too many cats treated as small dogs. They are a mystery unto themselves and that's one of the things I love about them! When you don't love cats, you don't get good results and this is why having a passion for feline medicine is so important.
References
Abood, S (2007) Increasing Adherence in Practice: Making Your Clients Partners in Care. The Veterinary clinics of North America. Small animal practice. 37. 151-64.
Adams, C., Frankel, RR (2007) It May Be a Dog's Life But the Relationship with Her Owners Is Also Key to Her Health and Well Being: Communication in Veterinary Medicine. The Veterinary clinics of North America. Small animal practice. 37. 1-17.
Boss, N (2017) Top Ten Ways To Communicate Better With Your Clients, VIN conference proceedings: Atlantic Coast Veterinary Conference.
Carson, C (2007) Nonverbal Communication in Veterinary Practice. The Veterinary clinics of North America. Small animal practice. 37. 49-63.
Cornell, K., Kopcha, M (2007). Client-Veterinarian Communication: Skills for Client Centered Dialogue and Shared Decision Making. The Veterinary clinics of North America. Small animal practice. 37. 37-47
Gray C, Moffett J (2010) Handbook of Veterinary Communication Skills, Blackwell Publishing LTD, United Kingdom
Hamood WJ, Chur-Hansen A, McArthur ML (2014) A qualitative study to explore communication skills in veterinary medical education. Int J Med Educ. 2014;5:193-198. Published 2014 Oct 11. doi:10.5116/ijme.542a.975d
Kisa, A., Sabaté, E., Nuño-Solinís, R (2003). Adherence to Long-term therapies: Evidence for action. WHO Library Catalogue, World Health Organization.
Pun, Jack. (2020). An integrated review of the role of communication in veterinary clinical practice. BMC Veterinary Research. 16. 394. 10.1186/s12917-020-02558-2.
Ranjan P, Kumari A, Chakrawarty A (2015) How can Doctors Improve their Communication Skills?. J Clin Diagn Res. 2015;9(3):JE01-JE4.
Shaw JR, Bonnett BN, Roter DL, Adams CL, Larson S. Gender differences in veterinarian-client-patient communication in companion animal practice. J Am Vet Med Assoc. 2012;241(1):81–8.
Torpie, Kathy (2014) "Customer service vs. Patient care," Patient Experience Journal: Vol. 1 : Iss. 2 , Article 3.
Vogel D, Meyer M, Harendza S (2018) Verbal and non-verbal communication skills including empathy during history taking of undergraduate medical students. BMC Med Educ. 2018;18(1):157.